If you think quilting is too difficult or too complicated, you're not alone. Cutting hundreds of pieces and joining angled seams can be tough work! But log cabin quilting—an artful and simple way to piece strips of fabric around a central square—is different. From the intuitive construction through the straight-line stitching, this style of quilting is simple as can be.
In Modern Log Cabin Quilting, Susan Beal outlines the entire process from start to finish, including basic quilting how-to as well as extensive design, fabric, and embellishment information. Since all log cabin designs follow the same formula, once you master straight lines and right angles, any of the 25 projects in this book are possible. From stash-friendly designs like the Charming Camera Case to more ambitious undertakings like the Vintage Linens Quilt, there's sure to be a project that will get you into (or bring you back to) quilting!
Check out the book's flickr pool right over here.
Order the Book
You can order Modern Log Cabin Quilting through Powell's Books, Barnes and Noble, Amazon, or your favorite local bookstore.
Book Reviews
Beginner quilters sometimes ask me to recommend a starter book, and this is the book I am going to recommend from now on. The basic quilting instructions at the beginning of the book are clear. Everything you need is covered, with great tips. The designs are fresh and beautiful. The author's taste is wonderful. This is the first album/scrapbook type...

Super crafty Susan Beal of Portland penned Modern Log Cabin Quilting after falling in love with that traditional technique. It's packed with instructions for 25 hip home projects ranked from easy — patch pocket aprons — to complex full-size quilts. Threaded through the book are tidbits of quilting history sure to enthrall new crafters.

This great book has 25 patterns for quilts, pillows, bags, potholders and more, along with a little bit of history and plenty of information on techniques. Even though I'm only a beginning quilter, I feel confident that I could attack any project in this book.

This book offers directions for 25 fun and easy projects. You will be amazed at the variety of projects you can make using log cabin blocks. Of course, you can create a quilt, but you can also make a coaster set, pillows, an apron, a camera case, and so much more!
Market Tote Project (page 141-144)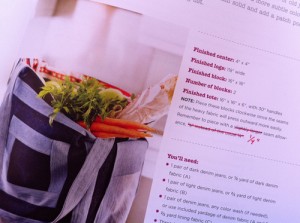 The Market Tote project (page 141-144) has an error on the first page when indicating seam allowance. It asks for a 3/8″ seam allowance, but you should use a 1/4″ seam allowance instead (see photo above). Earlier in the book, on page 31, I had recommended wider seam allowances for certain fabrics (like denim) but that advice was primarily meant for large-scale piecing and quilts (like the Winter Woolens and Housetop Quilts, for example). The incorrect, larger seam allowance ended up in the note starting the instructions for the Market Tote, which is a smaller project pieced more closely. I really apologize for the error.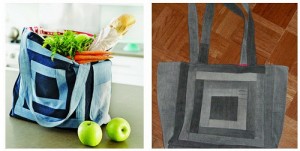 If you have pieced your Market Tote blocks with the 3/8″ seam allowance, you can certainly still make a sturdy tote bag with them, but it will be on a smaller scale (about 14″ instead of 16″ across) and you'll need to trim your lining, sides and bottom down to match. Please comment or email me if you need more details and I'd be happy to respond or update here. Thank you to Mary for contacting me about it and sharing her photos of her lovely finished smaller Market Tote in grays and blacks (on the right, above) in the book flickr pool.
Block Pocket Apron (page 116-120)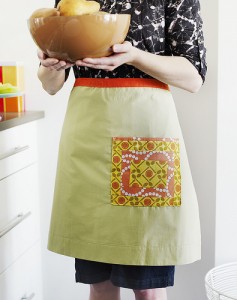 The Block Pocket Apron (page 116-120) has two number typos in the first edition of the book, which are corrected in a brand-new downloadable PDF version of the pattern. You'll use a 3.5" x 4.5" (not 3" x 4" as it's mentioned once on page 117) piece of pattern paper for spotlighting centers, and for the first tier of logs (fabric B) you'll cut a 1.5" x 21" (not 1.5" x 18" as it's mentioned in the Cutting Key on page 118) strip of Fabric B. I apologize for the errors, and I'm glad to have the chance to share the corrections here and in the updated pattern PDF.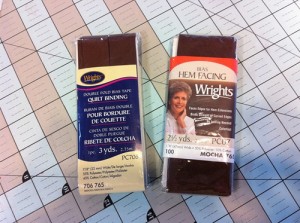 I also wanted to show some examples (above) of the 2″-wide bias tape I recommend for the waist sash so there's no confusion there either. Here are two types you can use, labeled hem facing and quilt binding. Or you can use a 2″ Clover bias tape maker for a handmade version!
Building a Block (page 30)
In the written instructions to piece your first Picture Frames block (pages 28-30), the final illustration of the front of the finished two-tier block was cropped a bit on two sides instead of shown in full, so I wanted to share the complete image here for reference. Daniela Caine and I also made a short video on this basic block piecing technique right over here, if you're interested.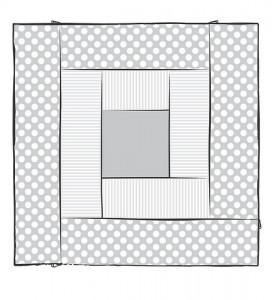 Project Ratings (pages 49, 53, 65, 103)
Each of the 25 projects, from the smallest coaster to the most complicated quilt, is rated between one and five spools of thread for difficulty. Here's the chart on page 9 that explains it all!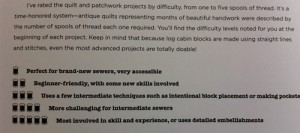 Four projects were inadvertently rated with the wrong number of spools (5) – here they are with the correct difficulty ratings!
Winter Woolens Quilt (page 49): 2 spools
Housetop Quilt (page 53): 2 spools
Modern Crosses Quilt (page 65): 3 spools
Favorite Cloth Napkin and Coaster Set (page 103): 1 spool