In Button It Up, you'll find 80 cute-as-a-button projects, including bold and beautiful pendants, rings, bracelets, necklaces, brooches, earrings, and more. Also included are instructions for an eye-catching assortment of accessories and housewares, from bookmarks and keychains to purses, market totes, and embellished curtains. Readers will also find fun sections on vintage button history and culture.
Order the Book
You can order
Button it Up
through
Powell's Books
,
Barnes and Noble
,
Amazon
, or your favorite local bookstore.
Book Reviews
I was impressed by the readability and clarity of the directions on the projects. The steps are written specifically. Unlike some craft books, this one has an image for every project on facing page. There is no searching for what the project should look like.

If you have a love for buttons + crafting this is the perfect book for you.

I think that's part of the fun of Button It Up — not only are the projects are wonderful, you also get a huge dose of button eye-candy. Yum yum.

If you're familiar with Susan's jewelry-making book,Bead Simple (a well put together and highly approachable book, if you're interested in jewelry making), you'll appreciate that Button it Up follows a similar format — lots of great "recipes" (that's how I think of them) for making unique projects, this time using buttons.

The book has 80 projects in Susan's signature simple style — each one lets the focus be on the unique buttons you choose to highlight. Every project is complemented with full page photography so you can soak up all of the pretty buttons contained in each one.

The Vintage Button Primer gave me an incredible appreciation for buttons and left me really excited to see how Susan and the guest contributors used them in the book. Aside from the primer chapter, the book is filled with a beautiful variety of projects from home dec items, to jewelry and gifts. Most are in the easy to medium category...

Susan Beal's Button It Up is a gorgeous book, filled with buttony eye-candy, as well as how-tos for all kinds of great projects! It starts out with button history, style, and types, and then we're given a techniques section with great illustrations showing everything we need to know to make jewelry, sew, and glue with vintage buttons… Then on to...

Susan is a genius when it comes to designing classic and cool, functional objects. Here, she offers a world of ideas using only buttons! I'm very excited to make some of these projects!

Susan Beal's newly released book Button It Up was the source of my obsession inspiration. The book is full of projects for putting beautiful buttons to use – everything from jewelry to home decor and clothing. The array of projects is diverse, and so is the time and skill level needed to complete them. Perfect for just a quick little crafty button-love...

Susan offers some easy-to-follow techniques and super-crafty know-how, including a jewelry-making 101 section with info to serve all skill levels, whether you are a craft newbie or a seasoned pro. The book is nicely organized and the photography and illustrations are superb. Stunning button necklaces, bracelets, and rings to make, or spiffy home decor delights with button embellishment ideas and...

The variety of projects is fantastic — learn how to turn your buttons into necklaces, earrings, rings and embellish napkins, curtains, bags, and more. I love the the photos in the book and the detailed illustrations that take you through the steps of making the projects. – Button It Up Book Review

Susan Beal has some clever ideas about what to do with those buttons you've been saving all these years. Or the vintage ones you find yourself admiring at thrift shops, estate sales or in your grandmother's button box.
And some recommended sources for buttons, jewelry findings, and craft supplies:
The Buzzard Brand (vintage and hand-cast buttons, craft and jewelry supplies)
Eloxite (jewelry blanks, beads, and tools)
307-322-3050
Exclusive Buttons (vintage buttons)
10252 San Pablo Ave., El Cerrito, CA 94530
510-524-5606
Fire Mountain Gems (beads and jewelry supplies)
800-355-2137
Great Buttons (new and vintage buttons)
1030 Sixth Ave., New York, NY 10018
212-869-6811
Berger Beads (vintage and new jewelry materials)
413 E. 8th St., Los Angeles, CA
213-627-8783
Britex Fabrics (buttons, fabric, and sewing supplies)
146 Geary St., San Francisco, CA 94108
415-392-2910
The Button Emporium (new and vintage buttons and ribbons)
914 SW 11th Ave.
Portland, OR 97205
503-228-6372
M & J Trimming (lace, ribbons, trims, and buttons)
1008 Sixth Ave., New York, NY
800-9MJ-TRIM
Metalliferous (vintage and new beads, charms, and chain, plus tools and findings)
34 W. 46th St., New York, NY
888-944-0909
Michael Levine (fabrics, buttons, and ribbons)
920 Maple Ave., Los Angeles, CA
213-622-6259
Rings and Things (metal and findings of all kinds)
800-366-2156
Rio Grande (semiprecious, metal, and tools)
800-545-6566
Tender Buttons (vintage and antique buttons)
143 E 62nd St
New York, NY 10065
212-758-7004
Toho Shoji (beads, chain, charms, and crystals)
990 Sixth Ave., New York, NY
212-868-7465
Don't forget to search Etsy and eBay for vintage buttons or any other specific things you're looking for, or browse a whole category. Estate sales, flea markets, antique fairs, and thrift stores are amazing resources for vintage pieces, too.
Book Corrections & Extras
Row of Button Necklaces (page 54-57)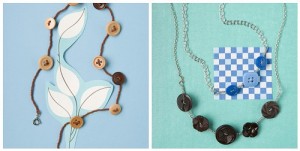 The photos were reversed on Leah Kramer's Buttons and Beads and my Button Curve Necklace projects (pages 54-57). No text is missing, it's just easier to make the necklaces when you're looking at the right pictures! So we made a PDF of the projects paired with the correct photos — download it right here: CORRECTION: Row of Buttons Necklaces
Sewing Project Extras

Click here for a PDF of the hand-drawn pattern for my Big-Eyed Owl Button Toy: DOWNLOAD: Big-Eyed Owl Template
Here are links for complete tutorial instructions to make Diane Gilleland's Button Sampler Tote andKristin Roach's Spring Roll Delight Market Tote.
Loop D Loop Button Curtains
CRAFT: has just posted the free project instructions for making Loop-d-Loop Button Curtains as one of their lovely Pattern Podcasts!
Burcu Avsar and Zach DeSart took the simply amazing photographs, and the gorgeous illustrations were drawn by Alexis Hartman.
A special thank-you to Myrna Goldware and Russell Mott for generously lending their vintage and antique button photos to the Vintage Button Primer as well!
Cathy Callahan draws inspiration from crafts and design of the 60s + 70s. Her projects are based on things she finds in her collection of vintage craft publications:cathyofcalifornia.com.
Jessica Wilson is the mad photo-boothing mind behind scrumdillydilly.blogspot.com and scrumdillydo.blogspot.com. She is always in the middle of one project or another and distracts herself by baking goodies that taste scrumdillyumscious!
Nancy Flynn is the author of Jeaneology: Crafty Ways to Reinvent Your Old Blues, and co-editor of getcrafty.com. A chronicle of her crafty adventures can be found atbelleepoquewhimsy.com.
Melissa Frantz lives in Portland, Oregon, where she drinks too much coffee and sews as much as her three kids will allow. She blogs at allbuttonedup.typepad.com.
Mariko Fujinaka lives in Portland, Oregon, with her understanding husband and demanding dog. She blogs about crafting, baking, and other exploits at supereggplant.com.
Diane Gilleland, aka Sister Diane, produces CraftyPod, a blog and bi-weekly podcast about Making Stuff. She also runs DIY Alert, a website about all things crafty in Portland, Oregon.
Sarah Johner, both a crafter and a junker, enjoys everything from sewing and button crafts to collecting vintage pottery. Her blog, Making Projiks, The Misadventures of Mama & Jack, can be found at mamanjackjack.blogspot.com.
Amy Karol lives in Portland, Oregon with her three beautiful girls and husband and has always wanted a pet koala bear. She wrote Bend-the-Rules Sewing, The Essential Guide to a Whole New Way to Sew, and you can find her up to no good over on her blog,angrychicken.typepad.com. For a more slightly more organized view of her world, visitamykarol.com.
Leah Kramer is the founder of craftster.org, an online community for fans of hip, modern craft projects. She's also the author of The Craftster Guide to Nifty, Thrifty and Kitschy Crafts.
Christina Loff is a crafter and writer living in San Francisco. You can read about her adventures and creations at borrowedboughtstolen.blogspot.com.
Meredith MacDonald crafts and lives on the East Coast with her husband. Her sewing, knitting, cooking and Blythe doll adventures can be found at paperdollygirl.com.
Torie Nguyen makes and sells jewelry under the name Totinette, is a member of PDX Super Crafty, and co-organizes the Crafty Wonderland sale. When not crafting, she's a Realtor who runs a blog called I Love Portland Homes.
Alicia Paulson dreams in calico and crochet hooks, and spends her days designing crafts in her home studio in Portland, Oregon. She is the author of Stitched in Time: Memory-Keeping Projects to Sew and Share from the Creator of Posie Gets Cozy.
Rebecca Pearcy is the founder & designer of Queen Bee Creations. Her products can be found at boutiques throughout the U.S. and online at queenbee-creations.com.
Jennifer Perkins is the author of Naughty Secretary Club: Jewelry for the Working Girl, web mistress of jewelry website naughtysecretaryclub.com, and a member of the Austin Craft Mafia.
Linda Permann is a freelance writer and craft designer. She loves to sew, crochet, knit and bake, and is always on the lookout for cookie tins full of old buttons. Read all about it atlindamade.wordpress.com.
Christy Petterson is a writer, crafter, PR specialist, avid coffee drinker, native Atlantan, roadie for her drummer of a husband and all-around nice person. She is co-organizer of theIndie Craft Experience, a biannual craft market in Atlanta, co-editor of Get Crafty, and creator of the a bardis accessory line.
Kristin Roach enjoys the process of finding meaning and purpose in forgotten materials and experiences. Her work ranges from painting to pattern writing, but always is connected to material identity and process: kristinroach.wordpress.com.
Sally J. Shim is the designer behind Shim + Sons, a home accessories and stationery design studio based in Portland, Oregon.
Laura Stokes-Estrada produces her Buzzard Brand line of resin trinkets and jewelry in her Southern California studio. Her array of vintage and handmade findings are available at theBuzzard Brand.
Amanda Blake Soule is the author of The Creative Family: How to Encourage Imagination and Nurture Family Connections. She blogs at soulemama.com, where she writes about and photographs her days crafting, thrifting, and parenting three little ones on the coast of Maine.
Kayte Terry is a crafter, stylist and writer living in Brooklyn, New York, and the author ofComplete Embellishing. You can find out more about her on thisisloveforever.com/blog.
Nicole Vasbinder is the designer behind Queen Puff Puff and is a proud member of the International Sisterhood of Seamsters. She recently opened StitchCraft, a sewing and craft studio in Petaluma, California.