I'm super excited to join the Sew Mama Sew Giveaway Day this year – I've put together a crafty package with a 3-month Creativebug subscription (so the winner can take my Log Cabin Quilting class any time, plus any others that catch your eye!), plus you can pick out some of my fabric and supplies to get you started on your favorite of the four projects from the class series! If you already have a subscription, this will add on three more free months, and I'm happy to ship fabric and supplies internationally too. So far, I've chatted with students in the US, Australia, Brazil and the UK who are sharing their work and it's been so fun to see these pretty log cabin pillows from all around the world! Here are my projects from the four classes…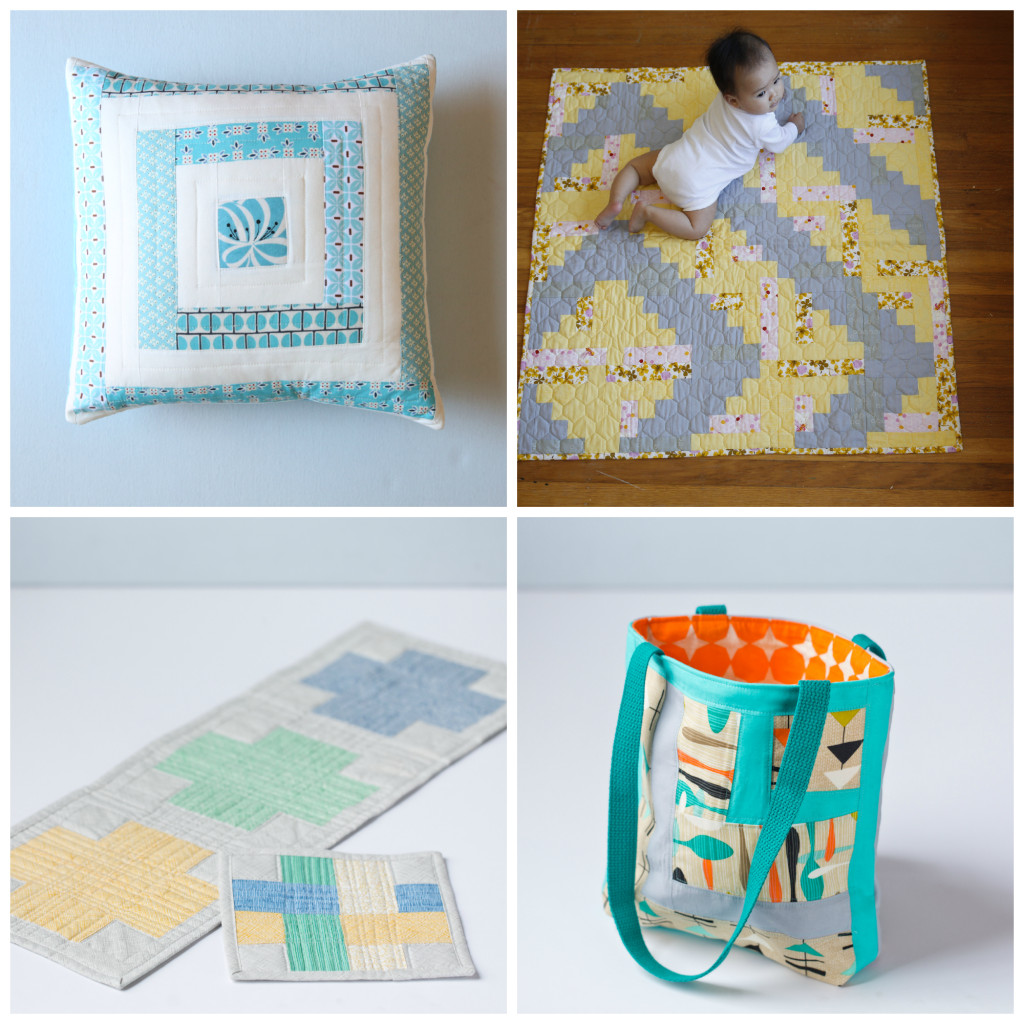 This first week's class, the square within a square pillows, has been awesome. I have LOVED seeing people's projects over in the Log Cabin Quilting class Facebook group (feel free to join up) and on Instagram (just look up #cbuglogcabin!). I wanted to share a few more fun things before tomorrow's class, the baby quilt, launches to add a whole new long-form workshop!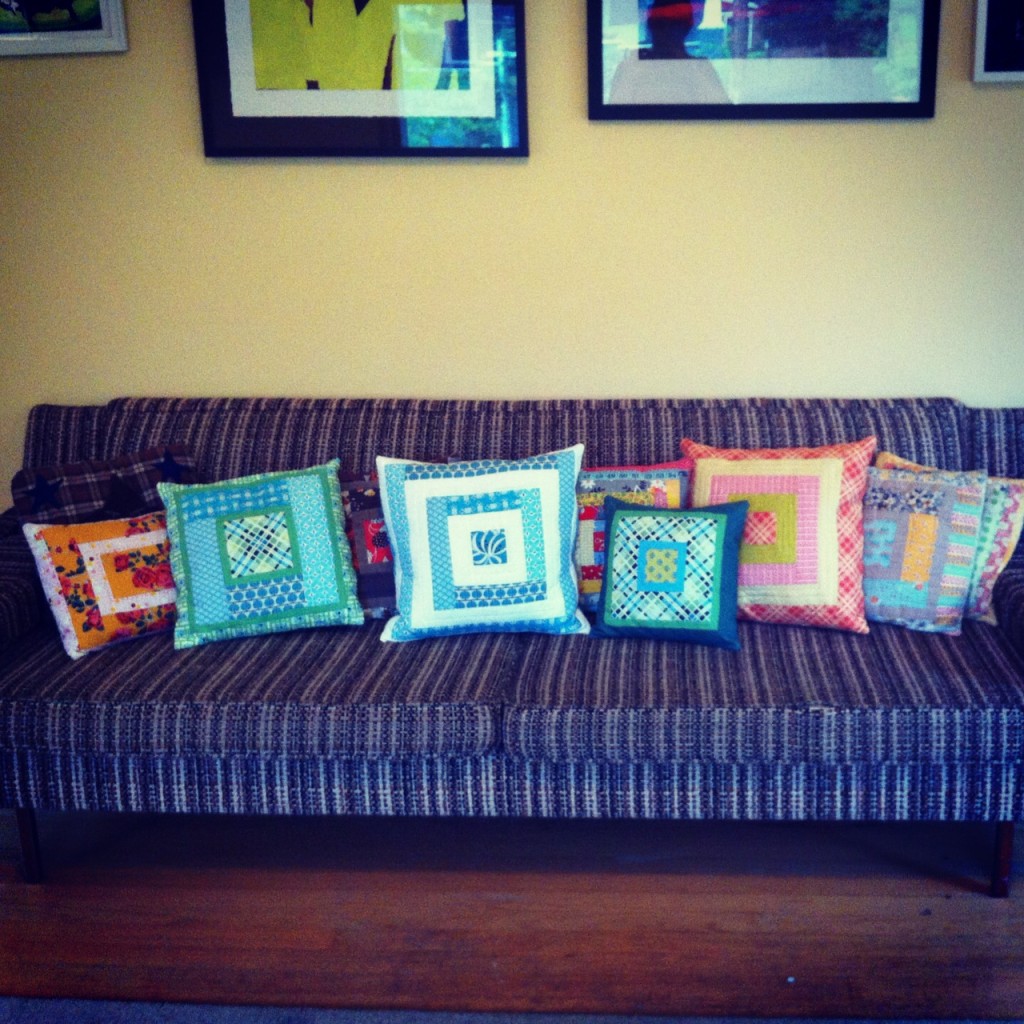 I wrote a guest post for Sew Mama Sew this weekend about designing blocks with the Threadbias Quilt Design Tool, and also shared a bit about my sketchbook (where I keep the math, sketches, and fabric swatches for all my many, many rough drafts when I'm working on a new project) – in other words, LOTS of pillows. From changing fabrics and colors to widths and layouts, there are so many ways to make a patchwork project your own!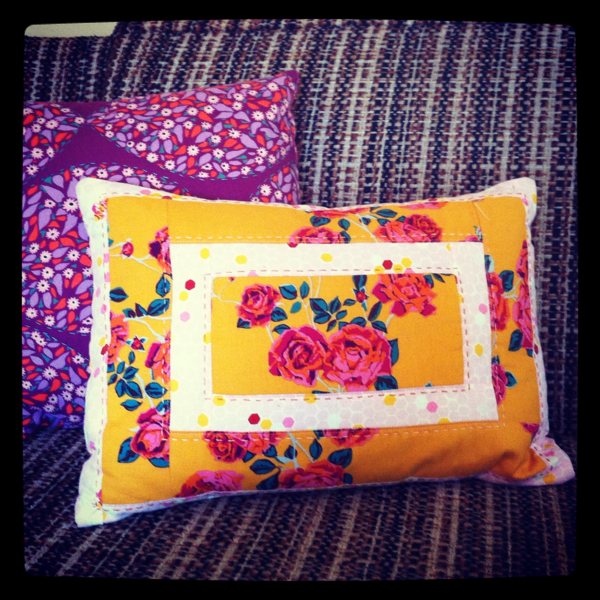 I'd love to share one more spin-off project today, which is a favorite of my daughter Pearl's in particular: a rectangular version of my pillow, mixing two lovely favorite prints by Anna Maria Horner and Heather Ross! I fussy-cut a rose from Anna Maria's Hand-Drawn Garden collection, and framed it with a sweet little print from Heather Ross's Briar Rose line (which you'll see lots more of in tomorrow's baby quilt class).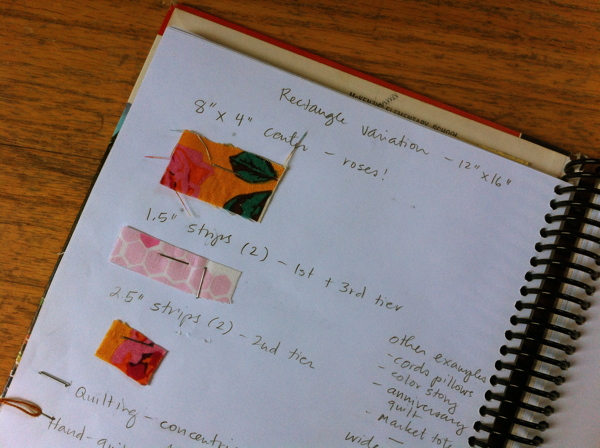 Here's my sketchbook page reflecting the final version – I went through a few variations before landing on this block arrangement, including mixing in some darker green Denyse Schmidt from Florence that picked up the roses' stems and leaves, but I really like the ultra-simple back-and-forth I ended up with after editing the dark fabric back out. I did a little machine-quilting around each of the tiers, and then hand-quilted it too, echoing those simple lines, using soft golden brown and light pink shades of Anna Maria's lovely Anchor pearl cotton.
For those in Portland: Heather Ross will be at Powell's Books tonight, signing her new (wonderful) book!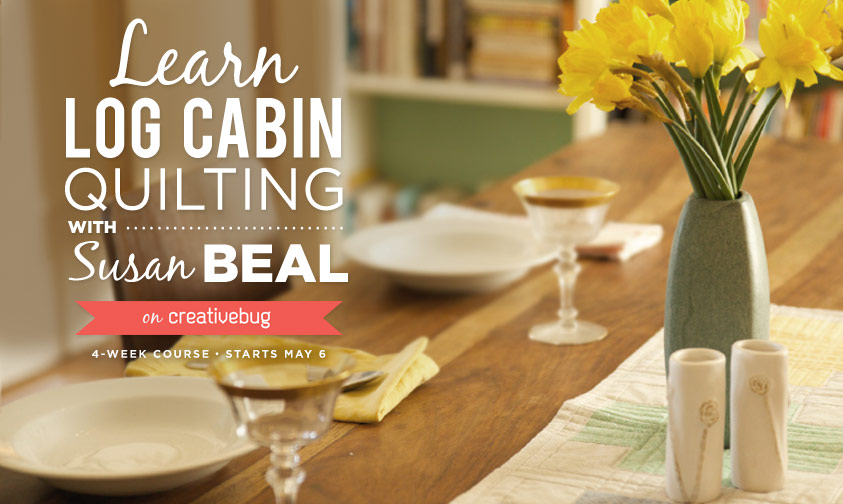 To enter my giveaway: Just leave a comment here telling me your favorite log cabin quilt or project – one you've made or seen, or one you really want to make, and I'll draw a winner on May 16. I'll set you up with a 3-month Creativebug subscription (which includes unlimited classes for you to take!) and put together a custom fabric and supplies package for you to sew with, based on your favorite Log Cabin Quilting class project, and the colors and patterns you love. Hope to see you in one of my classes soon, and happy quilting! Thanks, Sew Mama Sew!