Happy new year (well, second week of the new year, anyway)! I hope 2014 has been good to you so far. Ours has been busy, and full of house projects which feels really good. Whether it's the new year, that I'm about to have a birthday, or that I'm finally better after my ankle injury this summer, I thought about what I really wanted to do, made a whole bunch of lists, and I'm super motivated. There have been a lot of boxes to sort, things to give away, and fabrics to fold, but some good rewards along the way, too – I finally got to hang my new calendar in my sewing room (which I made all the way back in 2012 for Sewing for all Seasons, thanks to Amy's advance design awesomeness).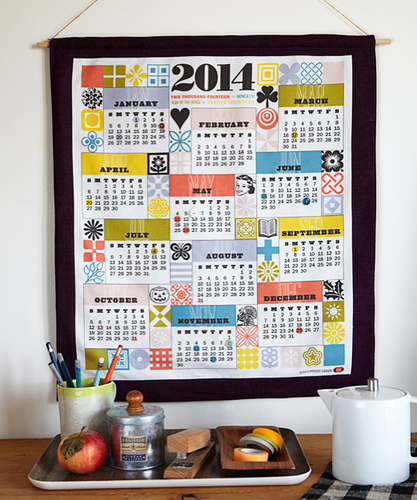 I also put together a collage of some things I made last year, which was fun to look back over – it was a little bit of a whirlwind, but some instant favorites of everything I sewed were the seven Barcelona skirts, eight zip pouches, and nine infinity scarves, along with little-girl skirts, improvised backpack appliques, and a tooth fairy pillow. Another 2014 resolution: make more things for Everett! I am on the lookout for a good kids' pants pattern, and anything I can sew or craft that has to do with LEGOs. He loved the backyard teepee and the clothespin dolls as much as Pearl did, but it will be great to make some more stuff just for him.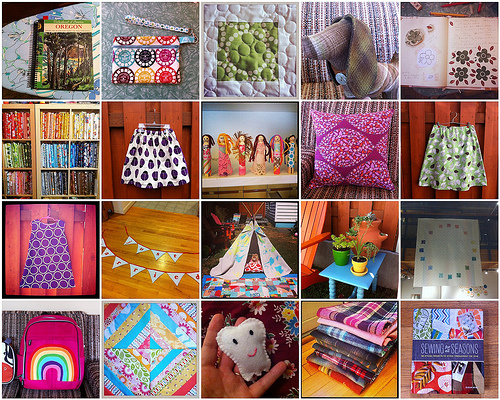 This year I hope to make more beautiful things, write up more tutorials, and share more photos (here and on instagram). Thank you to everyone who stops by – I hope you are having a wonderful January!