Well, hello, (February) 2015! I've been working on a whole bunch of new projects, and pretty swamped with boring track changes, hi-res images, and deadlines, but just wanted to share two things I've sewn lately that just make me happy. The colorful part makes all the rest of it worth it. So here are two of the colorful things.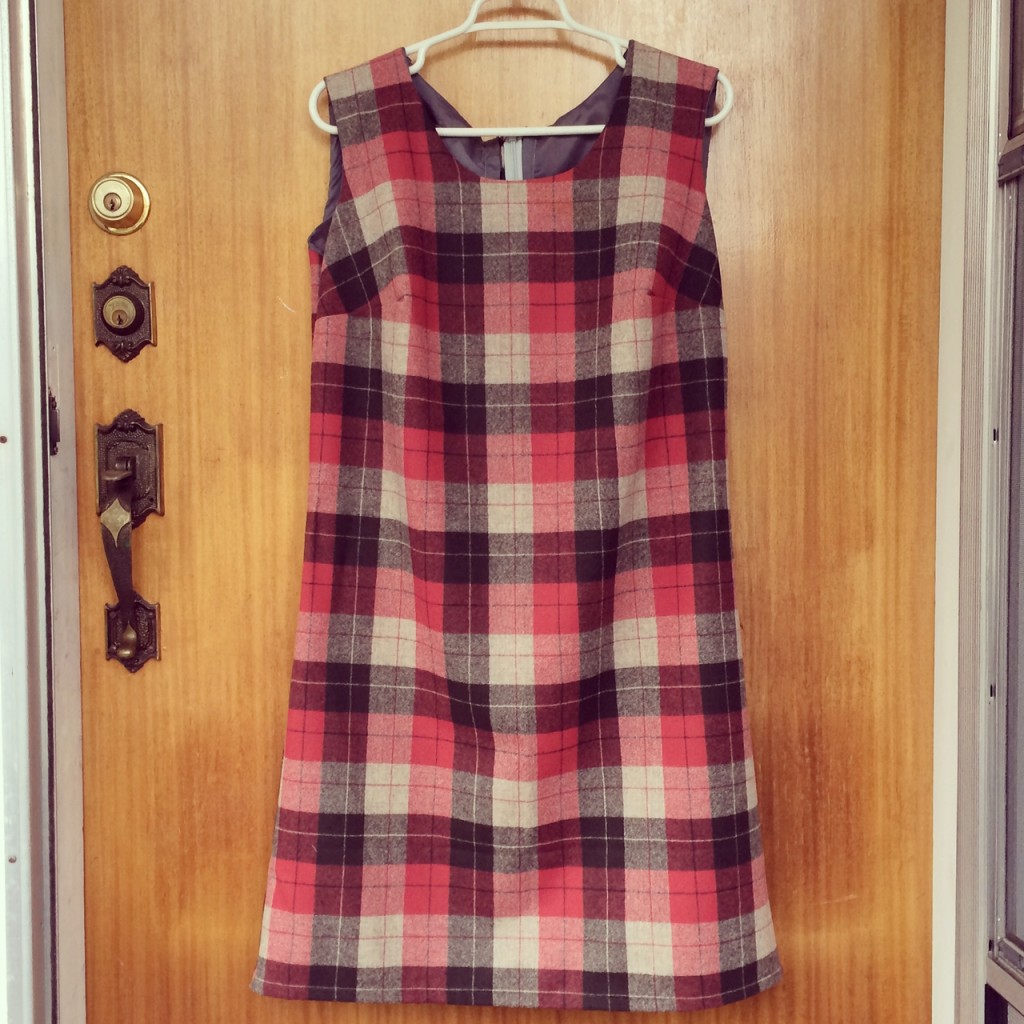 I've now made five Colette Laurel dresses, and I really think the fourth one is pretty magical. It's my dream dress, in a vintage reissue Pendleton 49er plaid I bought at the Woolen Mill Store, lined with super-soft and silky rayon lining fabric I bought at Bolt. It is simple and fits me perfectly and I love it! That's the short and cheerful version.
If you want a little more real-life honesty, let's just say I learned a lot sewing this dress. It was my first lined dress (I've sewn several lined skirts) and maybe you already see where this is going. The quick version is that I assembled the dress, using French seams and very carefully matching the plaids, sewed the lining with French seams too, took extra time with all the nice little details… and then when I joined the dress and lining at neck and arm holes, I realized that I had sewed myself a twisted, sealed tube of uselessness. The fabric was too substantial to turn easily so (sob) I started carefully seam-ripping it apart. All those perfect plaid matches, gone! It was so demoralizing that I set it aside for a couple months.
I picked it back up on New Year's Day and finished the deconstruction and then joined it at the neck and arm holes before sewing the sides. And this time it was so smooth and easy, and looks amazing lined and finished. I still took the time to match the plaids carefully, of course, but I didn't bother to sew the lining fabric with French seams again. That's an unpicking nightmare if you've ever messed up a project like this! So, I finished it in time to wear it out to dinner on my birthday. I love how this dress feels on, and the lining is wonderful. So worth the extra time and re-sewing.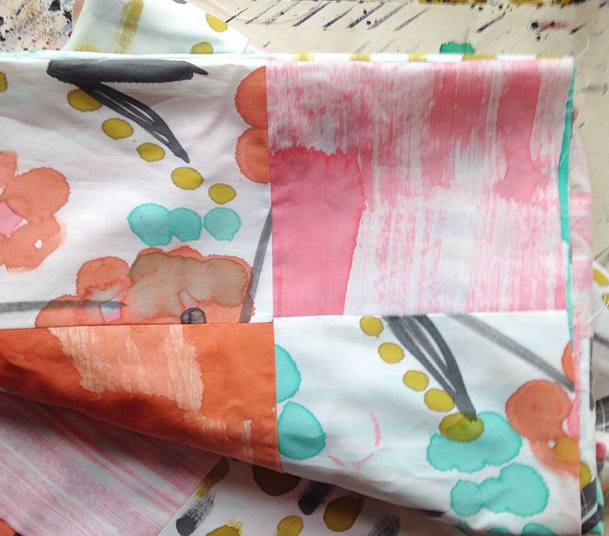 Then, over the last few weeks, I did a lightning-fast, super fun collaboration project with Anna Joyce! She gave me five of her brand-new hand-painted fabrics and asked me to design and sew a quilt top with them. We agreed on a couple of things: using 7" squares to really capture a nice-sized section of each of the patterns' details, and keeping it very simple so the fabrics shone. I came up with this diagonal arrangement and we both loved it! I did some quick row assembly and built it into a quilt top, gave it a press and it was all ready for her next steps with her next collaborator. The whole time frame from dropping off the fabric and visiting to cutting squares, texting lots of layout photos, sewing, and then delivering the finished patchwork top was maybe a week and a half, and Anna made it so much fun. I can't wait to see the finished quilt!!!
Anna's new book, Stamp Stencil Paint, will be out this fall from STC Craft and I am so excited to make tons of things with it. And I'm getting a little bit of a head start – her beautiful painted fabrics inspired our first-grade classroom auction project that I'll be working on with Pearl's class soon. All three of us volunteering to lead the kids just loved her work so much that it was an easy pick! Anna kindly previewed a few tips for us and I'm buying the fabric paint this week so we can get started. Pearl is so excited – I can't wait to see what six-year-olds do with this joyful and creative technique.
I'm super excited to share more projects on both fronts, sewing with wool and modern quilting, very soon. I hope you're doing some sewing (or crafting) that makes you happy too!