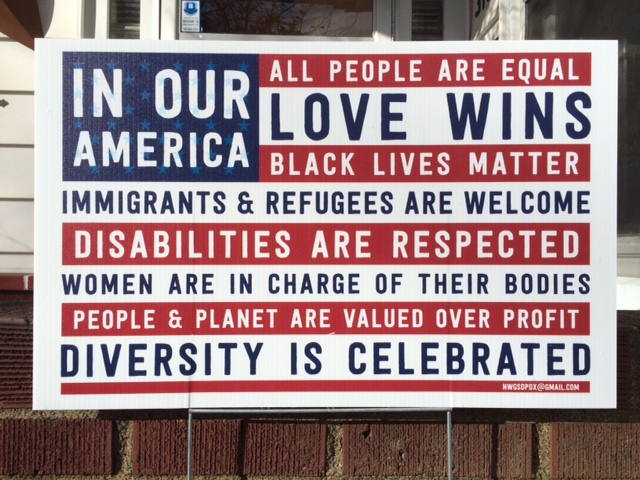 In our America…
a group of women, NWGSDPDX, quickly organized here in Portland, Oregon in the aftermath of the divisive presidential election to send a powerful message of inclusiveness, respect, and love for all.
We based our "In Our America" graphic on a design that local artist Jason Maxfield created. We collaborated with graphic designer Sean Donnell to create the modified United States of America flag design. In doing so, we created a flag worthy of the definition of patriotism–"love for or devotion to one's country." Our flag includes and upholds the rights of all people, along with the preservation of our planet.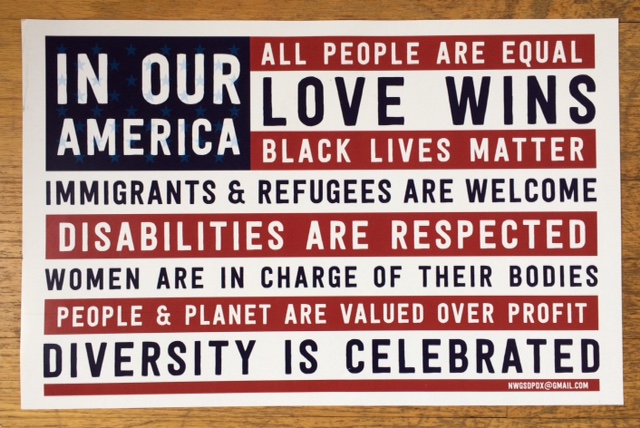 NWGSDPDX had signs and stickers printed we could proudly display, distribute, and share, with all money raised going to the Lutheran Community Services Northwest's housing emergency fund, which subsidizes rent for incoming refugees.
And under a Creative Commons license, NWGSDPDX has made the In Our America files available, for free, to download and print.
Since our primary goal is to get this message of inclusivity out and about, we are providing pdfs of the artwork to allow people to print these items on their own. The images are licensed through Creative Commons and are not to be altered or used for commercial purposes. In Portland, we have distributed the posters to businesses and schools to display and they have been very well-received. We hope you will do the same in your community.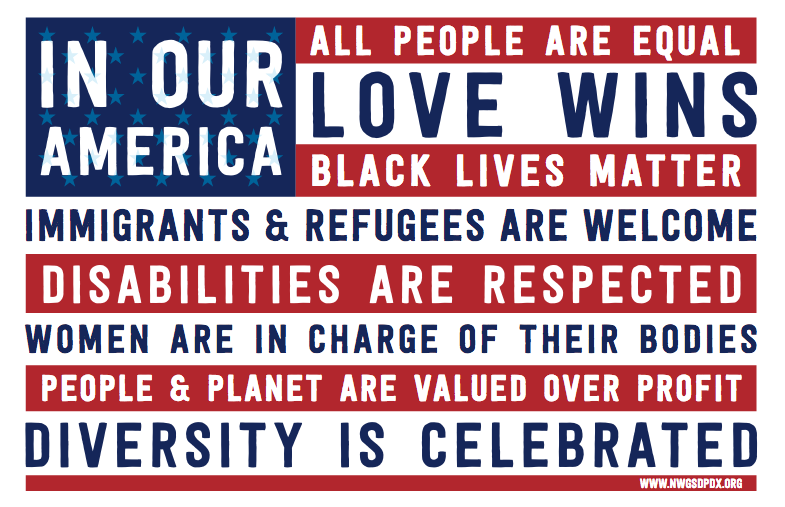 The original In Our America flag in English has now been translated into Spanish and is also available to freely download and print.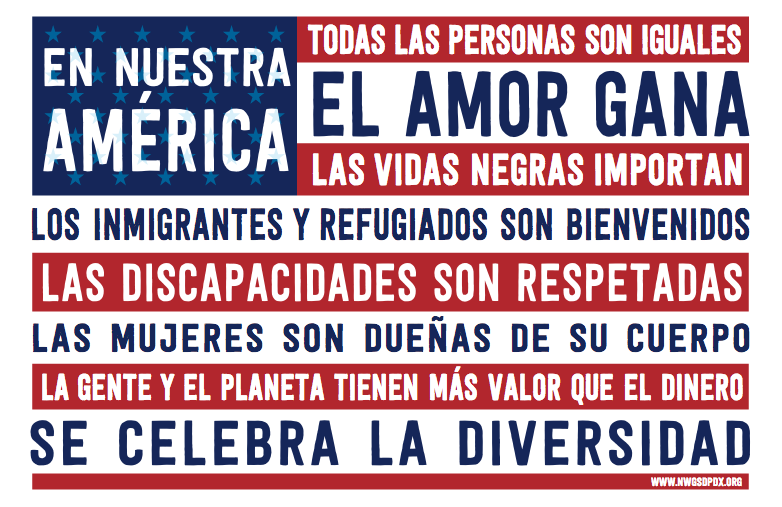 NWGSDPDX has done so much to get these signs, stickers, and posters out into the world. In addition to the free printables to download and share, you can buy stickers and signs locally at many independent businesses in the Portland area, or order them to be shipped in a Power Pack (5 signs, 5 stickers, and 5 posters, including shipping, for $100).
$10 suggested for yard signs, $3 for stickers and posters. Sliding scale available if needed. Posters are provided free of charge for businesses and schools to display. If you are in the Portland, Oregon metro area, "In Our America" signs, stickers and posters can be purchased at many local businesses, including: 
N Portland:
-Comic Cave (St. Johns, 7315 N Alta Ave), comiccavepdx.com
-NoPo Paws (2148 N Killingsworth St,), nopopaws.com
NE Portland:
-Bella Pizza (2934 NE Alberta), bellapizzapdx.com
-Here We Go Again (2438 NE Broadway), hwga.com
-P's and Q's Market (1301 NE Dekum St), psandqsmarket.com
-Rooks Barbershop (2935 NE Broadway), rooksbarbershop.com
-Rooks Barbershop (5667 NE Glisan), rooksbarbershop.com
SE Portland:
-Books with Pictures (1110 SE Division), bookswithpictures.com
-Evolution Healthcare (905 SE Ankeny), evolutionhealthcareandfitness.com
-Tom Dwyer Automotive (Sellwood – 530 SE Tenino St), tomdwyer.com
-Unfold Studios (3249 SE Division), unfoldportland.com
-Rooks Barbershop (3580 SE Division), rooksbarbershop.com
-Wells & Verne (734 E Burnside), wellsandverne.com
SW Portland:
-Confluence Clinic (506 SW 6th, Ste 801), confluenceclinic.com
-Craft Factory (Mult. Village, 7832 SW Capitol Hwy), craftfactorypdx.com
-Finnegan's Toys and Gifts (820 SW Washington), finneganstoys.com
-Here We Go Again (0511 SW Carolina), hwga.com
-Rooks Barbershop (1109 SW Taylor), rooksbarbershop.com
-Topanien Global Gifts (7832 SW Capitol Hwy), topanien.com
-Upper Westside Play Gym (1508 SW Sunset Blvd), upperwestsideplaygym.com
-Waterknot Cards & Gifts (217 SW 1st Ave), waterknot.com
Hillsboro:
-Black Sheep (6154 NE Brighton St), blacksheepatorenco.com
McMinnville:
-Hopscotch Toys (103 SE Baker St), hopscotchtoys.com
We thank these community partners and we encourage you to frequent their businesses and spread the word to your friends.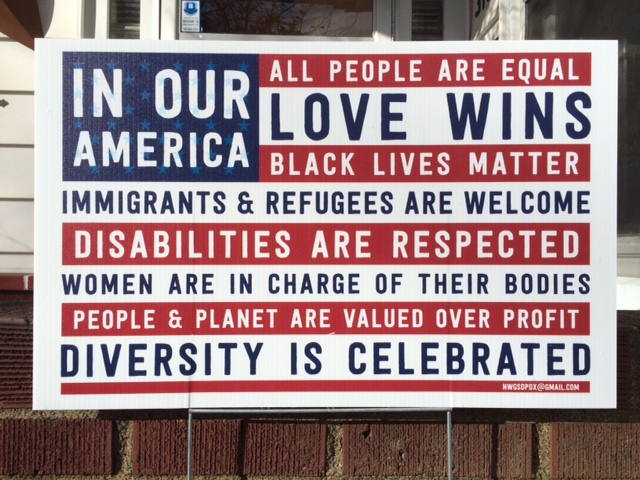 In challenging, frightening times like these, we must stick together, always do what's right (even when it's hard), help those in need, and lift each other up. I thank you for visiting my blog and supporting my crafts and writing. I will always write about and share what I think is important and true, in our America.
Love, Susan
Save
Save
Save
Save
Save
Save