I just got back from filming my CreativeLIVE Back to School Crafts class in San Francisco this week, which was awesome… but it's so nice to be home and thinking about sewing for fun again! My PMQG friend Melissa Lunden has a wonderful new book out this month, Sew a Modern Home, and I'm so pleased to read her lovely book, join her blog tour, and get the chance to dream about what I want to make for us.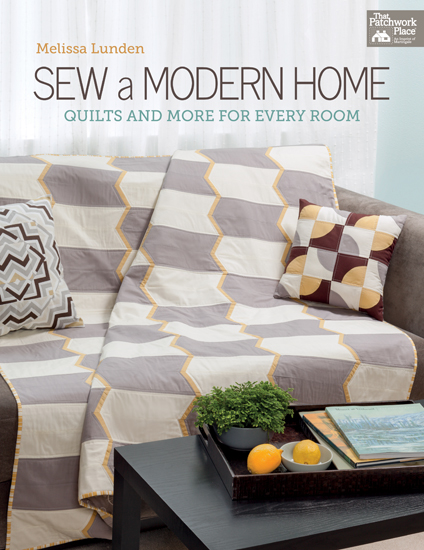 Melissa's quilts, pillows, and other home projects are all so charming – modern, simple, inviting, and with lovely attention to detail. The book has a thorough and clear techniques section, and paper patterns for many of the projects included, too.  I wanted to share a couple of my favorites of the 19 projects she designed – it's so hard to choose just three!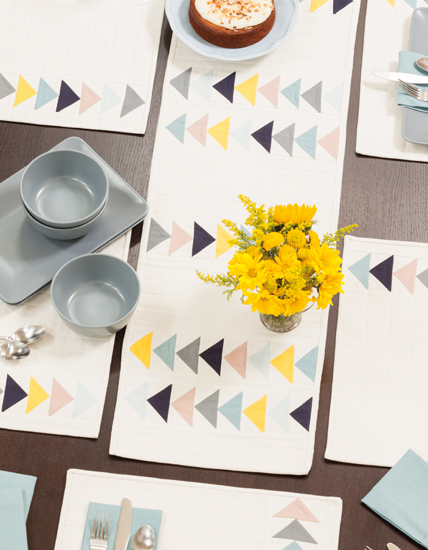 The first project I want to make is Birds of a Feather – Melissa's gorgeous, streamlined take on the venerable flying geese block, which she adapted to a dining room place mats, napkin, and table runner set. I'm imagining this as a series of mini-quilts hanging together in my hall, in orange, gray, and aqua.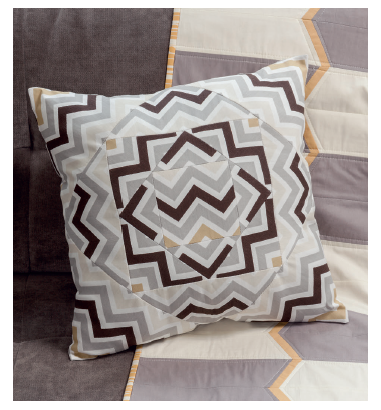 I was also immediately drawn to the super-striking Chevron Starburst Pillow – through clever cutting and piecing, Melissa created this brand-new design from a single chevron fabric!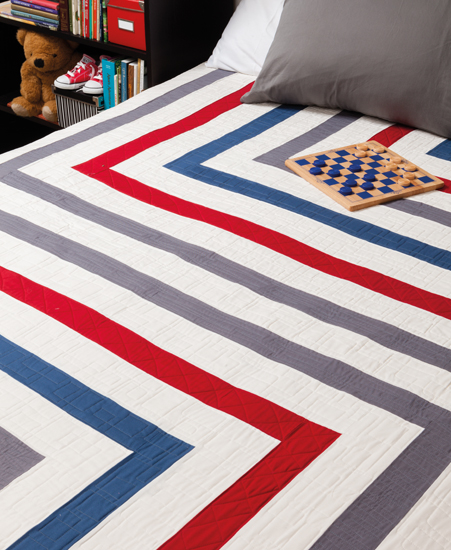 And I definitely want to make her Sharp Turn Quilt, which she designed for a young boy's room, but would be stunning as a grown-up quilt in a larger size, too. The clean, beautifully understated lines and simplicity are just so good.
Melissa is also doing a couple of Portland events, and the first one is tomorrow! She'll be at Fabric Depot's Quilt! Knit! Stitch! booth, #2302, showing and signing her book, from 10am-1pm on Saturday, August 16. Then, she's also having a book release party at Modern Domestic – mark your calendar for 4-6 pm on September 6, too!
Melissa and Martingale have generously offered up a free e-copy of Sew a Modern Home to a lucky reader. Please leave a comment here and let me know what you'd most like to sew from this lovely book, and I'll draw a winner one week from today, August 22!
All images in this post are courtesy of Martingale and Brent Kane.
Follow along with the rest of the blog tour right here!
8/13/2014    www.lundendesigns.com
8/14/2014    www.veryshannon.com
8/15/2014    https://www.westcoastcrafty.com/
8/16/2014    http://bostonsewer.blogspot.com/
8/17/2014    http://oneshabbychick.typepad.com/
8/18/2014    http://cactus-needle.blogspot.com/
8/19/2014    www.fabricworm.com
8/20/2014    http://generationqmagazine.com/
8/21/2014    http://blog.shopmartingale.com/
8/22/2014    prudentbaby.com
8/23/2014    http://www.stitcherydickorydock.com/
8/24/2014    http://www.favequilts.com/
Congratulations, Melissa!!!