Hello again after a whirlwind couple of weeks! The short version of my late October was: Sewing for all Seasons release (yay), MRI rapidly followed by the surprise of a missed fractured tibia, dating back from my fall in August (not yay), new walking cast, flying to New York for the first time in almost six years, lovely book party in Brooklyn (yay), photo shoot in Connecticut (yay), getting home in time for Halloween (yay)… and then really feeling completely, completely exhausted with my bone fracture aching (not yay). I've never broken a bone before (and for sure never walked around on an undiagnosed fracture for more than two months) and it has really worn me down. So for now, instead of book news this, or new craft project that, I would love to share something unexpected and beautiful that gave me a lot of joy when I really needed it… a gift I really could not have imagined.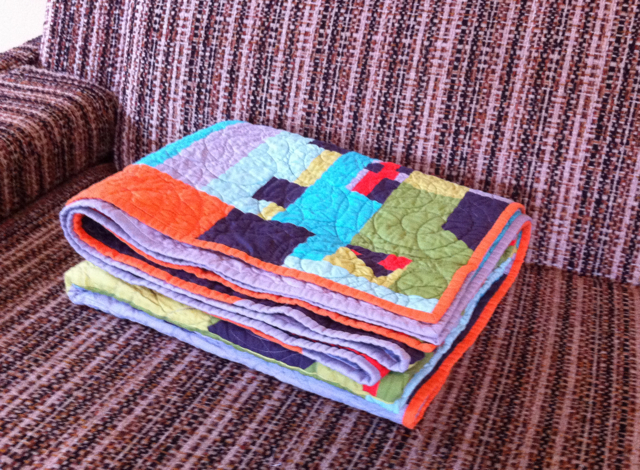 Yesterday morning was one of the tougher ones and I was feeling unhappy, tired, and stressed, with an aching leg and ankle and a ton of work on my plate. My friend Elsa asked if she could bring something over for me, and I was feeling so low, I almost said, how about another day? How thankful I am that I didn't. She knocked on the door… and gave me this quilt.
Last year, when I was PMQG president, we made three collective quilts (Graphic, Improv, and Linear) with blocks from a Michael Miller Cotton Couture challenge, and raffled two off at our holiday meeting in December to raise money for charity. Elsa won this one (Improv!) ten months ago. And this week she generously, unexpectedly decided to give it to me. I was just so stunned and incredulous I don't even know what came out of my mouth besides thank you, but there were plenty of tears. It is just so beautiful and means so much to me – our guild members made 47 of these blocks
and the 2012 board (me, Heather, Petra, Ale, and Nancy) curated them into three 16-block collections for quilts – improv-piecing one more block on the fly to make it an even 48 – and made the quilt tops, pieced backs that went with each, Nancy quilted all three of them beautifully, and then we bound them. Among a few other lovely places, Graphic (the most geometric blocks) showed at 2012 Quilt Market, Improv (blocks that we thought felt most improvisationally pieced and open to interpretation) at Sisters Outdoor Quilt Show, and Linear (blocks with clean lines and straight edges) at NW Quilting Expo. One is still owned by our guild (Graphic) and two (Improv and Linear) were raffled off to raise money for charity, won by Elsa and Juline, respectively, and now I can't believe that one of those precious quilts is mine. I loved them all so much (and bought a bunch of the charity raffle tickets!) but just never even dreamed that things could unfold this way, and that the gift Elsa wanted to bring me was this beautiful quilt she'd won.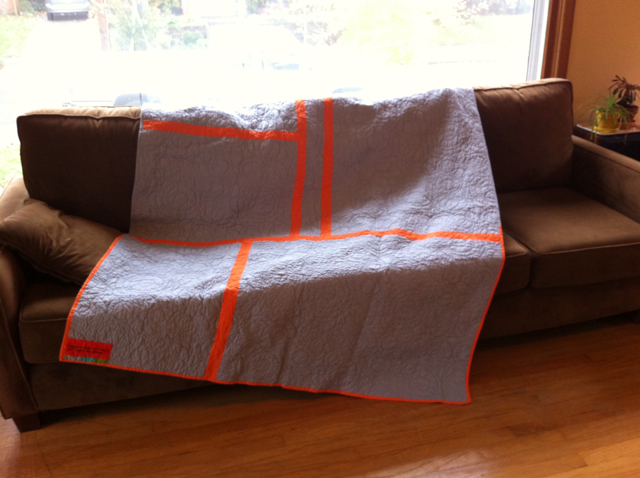 I recently made a new will, after this important and somber reminder for writers that Susanne thoughtfully shared, and I'm now updating it to also leave this beautiful quilt to the International Quilt Study Center. PMQG hosted our second Documentation Day on Saturday, which was really wonderful, and I was able to share a lot more of the story of Graphic (which we think is the first full-size modern quilt formally documented for the Quilt Index!), and I will be doing the same for Improv – thanks to Bill's leadership in helping us to document them. I am thankful for the incredible chance to own this beautiful community-made quilt, and just as happy for the chance to share its story more fully, for the people I know will enjoy seeing it a hundred years from now. Thank you, Elsa, both for thinking of me when I needed it most, and allowing me to be a link in the chain of quilt history that connects us all.