This week was the official release of my new book, Sewing for all Seasons! It's been a bit of a whirlwind* but I'm super excited to have my book out in the world. You can now find it at Chronicle, Amazon, Barnes & Noble, and Modern Domestic, and get signed copies at Powell's!
So I wanted to celebrate with some book giveaways spotlighting three of my favorite autumn and winter sewing projects, and I would love to send you one of these three prize packages!
Coffee-Cup Cozy
My daily essential is the simple little coffee-cup cozy I sewed myself last year. I drink a lot of coffee, and I use it pretty much every time I leave the house.
So I paired a signed copy of Sewing for all Seasons with one of the little kits I made up with everything you need to sew your own version of the cup cozy, and a bag of Stumptown Hair Bender (my personal favorite, especially since Michelle reminded me it was named after the barber shop in the space that their very first coffee roastery moved into fourteen years ago). I bought it at the newest outpost in the empire, Roman Candle, the other morning… Portland 2.0 full circle for sure.
Mason Jar Cozies
I've mentioned before how much I love Amy of Penny Candy Handmade's beautiful work and I'm so excited to share something brand-new we teamed up on!
I love to make hot cocoa mix and give a jar of it as a hostess or holiday present, so I was hoping to share the recipe on the page with my Mason Jar Cozies project, as a fun little extra. There wasn't room for it in the final book design after all, so I saved it to offer up as a free bonus over here! You can download a beautiful one-page printable Sewing for all Seasons Cocoa Recipe Amy designed with the recipe and three pretty tags to label your jars – it's on the right in the sidebar too! This prize includes a signed copy of my book, two of my favorite Denyse Schmidt and Carolyn Friedlander prints to sew a whole set of cozies, and of course a copy of the hot cocoa recipe and tags.
New Year's Calendar
I love my tea-towel calendars and I'm so happy to give away this prize to make your own version for 2014!
I paired a signed copy of my book with a FQ of Amy's wonderful calendar, a Martha Negley trees print, and buttons to sew over your family birthdays. This is another everyday favorite of mine… I love sewing projects that are quick, fun, and useful, and this one makes me happy every time I look at it. I hope you like it, too.
To enter: please leave a comment on this post telling me your favorite season, and something you like to make that time of year. It doesn't have to be sewing, cooking, crafts or any other kind of project is great! I will draw three winners on Friday, October 25 – US and Canada mailing addresses only, please, but I promise I'll do an international giveaway soon too.
A few more book things to share…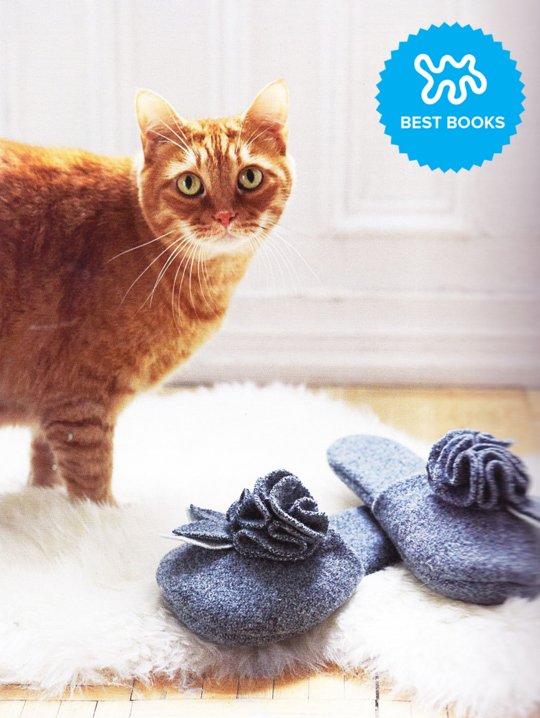 Janel of Apartment Therapy wrote such a wonderful review of the book this week. I was so thrilled to see it! And she picked the amazing photo of the cat with Michelle's slippers to spotlight. Awesome.
Diane of Craftypod posted a great and thoughtful review of the book with lots of page snaps, so check that out for more photos, too!
And Amy of Penny Candy Handmade wrote the sweetest post about our collaboration on this wonderful calendar project. She was kind enough to update the awesome 2012 calendar I bought originally two years before the dates were right, and send me gorgeous 2014 fabric to sew with (as a bonus, I found out my 40th birthday will be on a Saturday!). Thank you, Amy!
More to come soon but I can't wait to hear about your favorite things to sew or make all year round. Thank you to everyone who came to Powell's last weekend (thanks to Kevin for snapping the photo of me above) or Modern Domestic the week before, and to all the friends and strangers alike who have had nice things to say about my new book. I am so grateful! I'm about to head out to teach a mini-version of my Picnic Quilt string block at tonight's PMQG meeting so keep an eye out for that tutorial going up soon too!
*As anyone who's visited before will probably notice, I just switched from my basic WordPress template of seven years (and counting) to a brand-new blog with all my book sites in one pretty place, courtesy of Alyssa. We are still adding some things here and there but I'm so excited to have this fresh new site instead of six scattered small ones. I will be sharing lots of new tutorials, like the picnic string block, and posting some other bonuses over the next few weeks so please stay tuned for that, too!