I love this giant yellow button-sign — I think it was above a tailor shop. I took this photo in Brugge, Belgium when Andrew and I were there a few years ago. I wonder if could I make one? I have to think about this. Hopefully I will successfully reverse-engineer it and my next post will be a tutorial for making a giant button to adorn your own house or craft room… or tailor shop.
Speaking of giant button-signs, if you are in New York and want to shop for buttons (or fabric, lace, trims, sewing tools, beads, feathers, or any other crafty stuff) be sure to visit the official Fashion District kiosk for some divine guidance.
I got to go a couple of years ago and described it this way:
There's a bubblelike official Fashion District information kiosk at the corner of 7th Ave. and 39th St. I've walked right past it a million times, but this time, for some heaven-sent reason, I stopped and went in. There's nothing on the counter but some public safety leaflets warning against pickpockets and a well-thumbed book that's mostly retail clothing shops, but I asked the woman working if they had any guides to shopping for supplies in the neighborhood. She noted what I was interested in browsing, typed the terms into a search engine, and two minutes later I had 24 pages of customized listings to look through — each shop is described in detail along with the street address, phone number, and website!
And of course I love the motif they chose…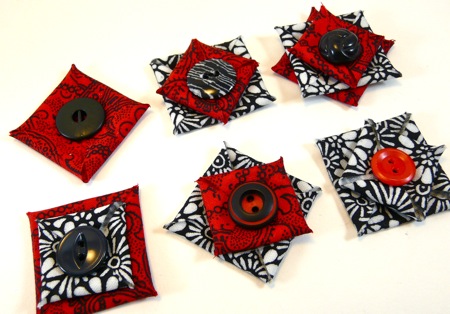 On another note, my friend (and Button It Up contributor!) Diane Gilleland recently made these darling button-embellished fabric squares that she's turned into jewelry pieces! Check out her full tutorial here — outstanding. I can picture these in every color combination in my button stash.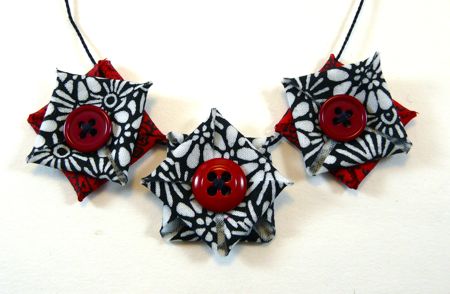 And speaking of Diane's button-and-fabric alchemy, don't miss her wonderful new book, Kanzashi In Bloom. She recently showed me how to make a button-center Kanzashi flower — my first — and I just love it:
More on the that fun morning over here, and more on her fabulous book over here!