I have always loved embroidery, since I learned hand-sewing as a little kid and made up my own fun projects for my dolls. But recently, with young children of my own, beautiful, portable hand-stitching projects I can easily pick up, and just as quickly put down, have been a real creative joy for me… and much more realistic than hours of solo machine sewing (someday!). I was so lucky to get a review copy of Rebecca Ringquist's gorgeous new book, and after I met her at her lovely Collage event this spring, I've spent the last few months stitching away on a few of her samplers and taking lots of inspiration from her generous, wonderful work. Rebecca's ability to blend vintage and antique pieces with her own very modern approach, in fascinating layers, speaks to so much of what I love about craft. The chance to create beauty without the pressure of perfection is so freeing.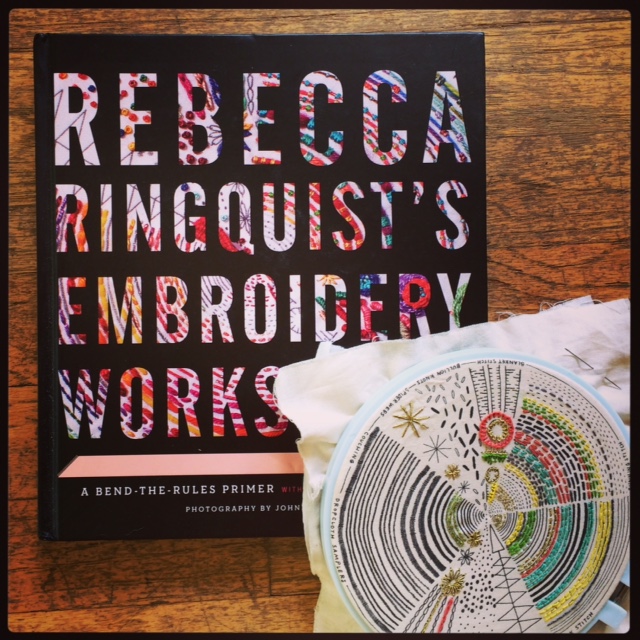 This is the sampler that comes tucked in the back of the book – so cool! I kept my pearl cotton colors for this one in a sunny summer palette and mixed in some gold floss as well. It's been a perfect summer project, worked at a fun and intermittent pace, while I've finished two of her other samplers to the last stitch.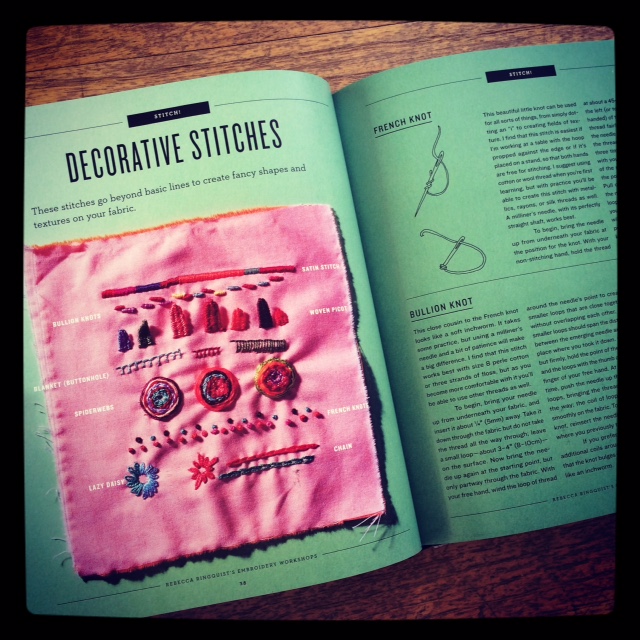 Rebecca's book combines instructions for basic and intermediate embroidery stitches with colorful photos and hand-drawn illustrations of her own work. Her style and approach are just delightful. This book will not only teach you how to stitch – whether you're a beginner or a longtime embroiderer who could use a fun refresh – but will also inspire you to love your stitches and what you can build them into.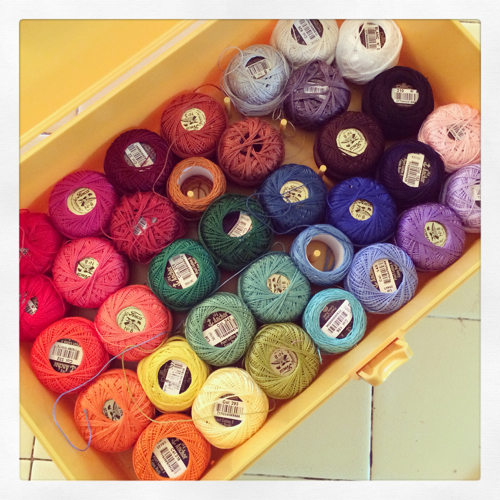 my pearl cottons in a vintage sewing case from Knittn Kitten
Rebecca kindly agreed to an interview with me about her work – and offered up a very generous giveaway of one of my favorites of her samplers! (See below to enter.) Thanks so much, Rebecca!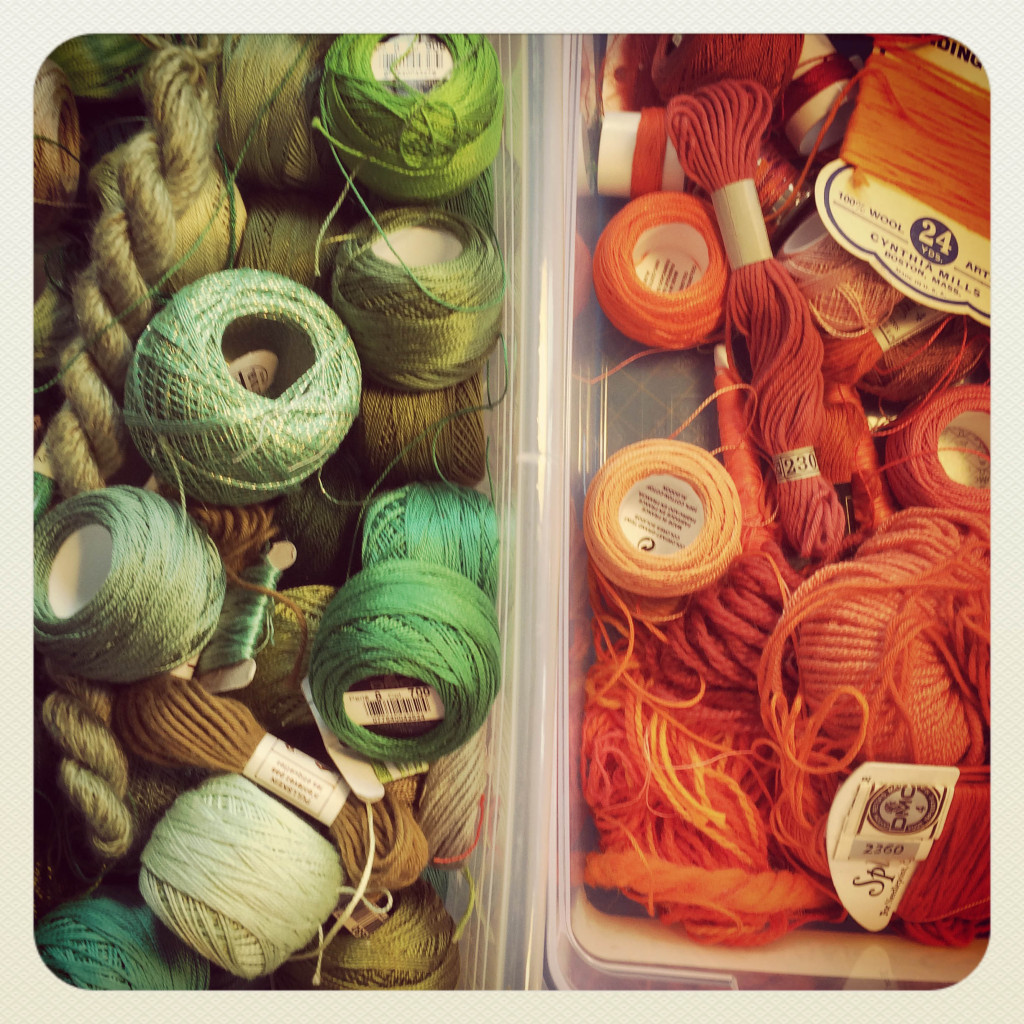 Some of Rebecca's green and orange flosses and threads
How do you organize your pearl cotton, floss, and embroidery supplies?
I keep my embroidery threads in clear boxes, sorted by color.  They are (for the most part) the plastic shoe boxes from the container store.  Here's a link.     I keep scissors, markers, rulers,  paintbrushes, etc. in old tins.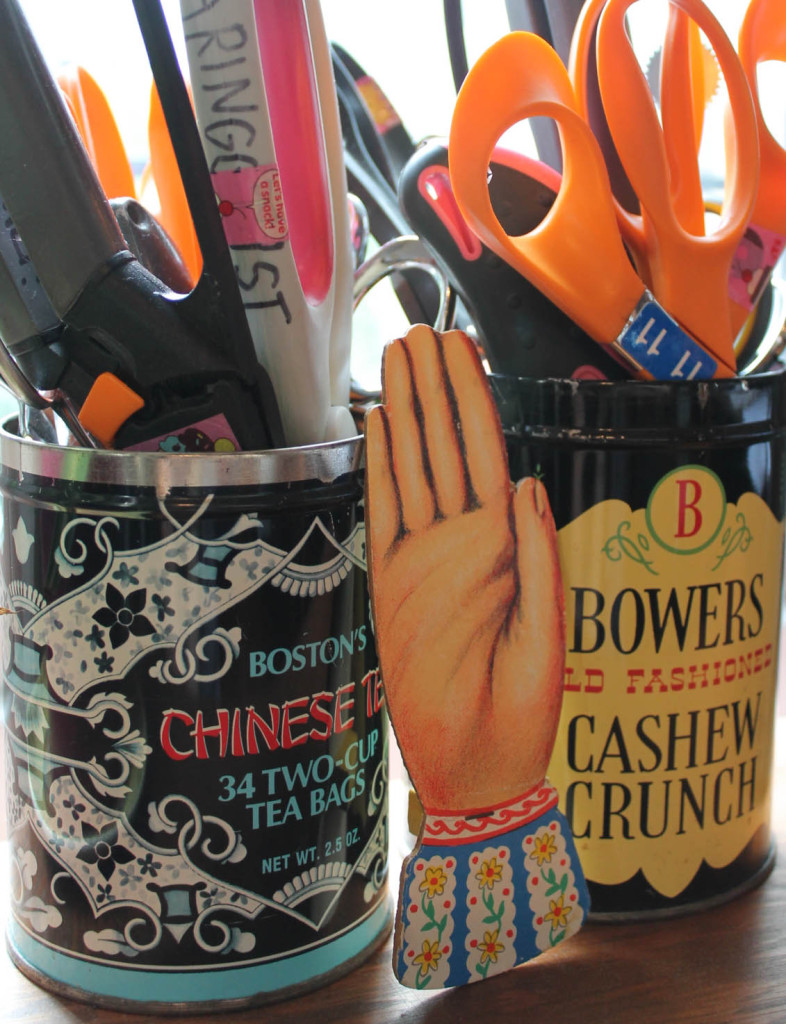 Scissors and other tools in Rebecca's studio
Do you have a favorite stitch these days?
I'm a little shy to say that my favorite stitch is, and probably always has been the back stitch.  It is the most versatile, the most similar to a simple drawn line.  I use it constantly.  Second favorites are the running stitch and couching.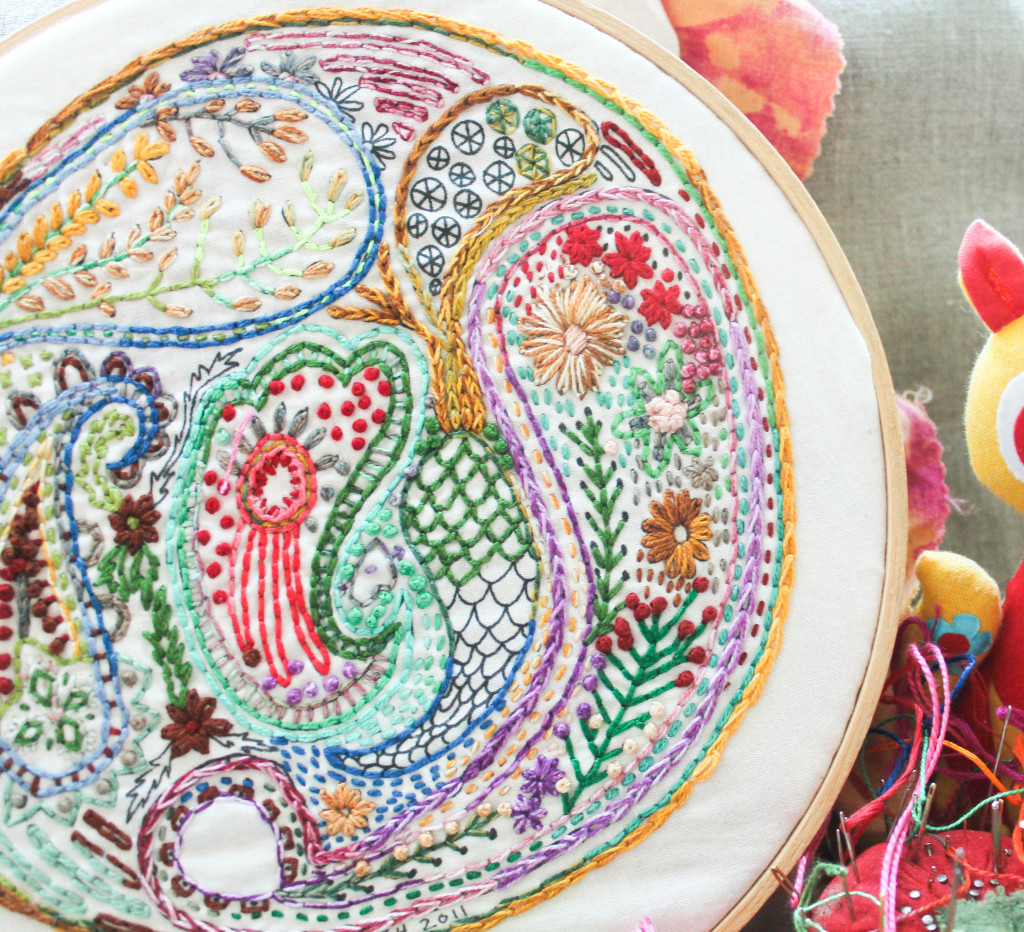 One of Rebecca's favorite Paisley samplers – the humble back stitch beautifully connects the more complex stitches!
I love how distinctive each of your samplers are, like the color wheel with its beautiful circular pattern divided into 12 colorful sections, each with its own stitch. What inspires you to create a new design?
I have a big collection of vintage books, and in particular, I've been looking at vintage textile pattern books lately while I work on new designs.  I spend a lot of time doodling, and these days, I'm having most fun doodling with gouache and paintbrushes.  From lots of bad designs that go in the trash come the ideas and beginnings of new designs and samplers. My favorite sampler so far is Paisley – I love how dense the stitches are, and how colorful the embroidery ends up.  I get a little thrill when a new version pops up with the hashtag on Instagram (#dropclothsamplers)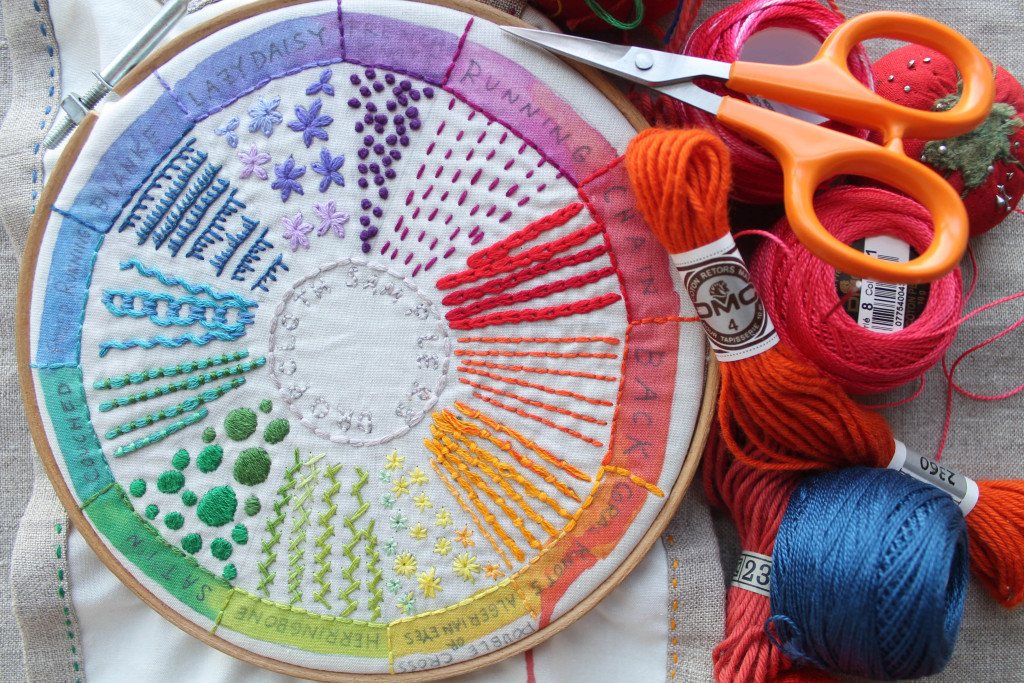 Rebecca's take on her gorgeous Color Wheel sampler!
 I bought a Color Wheel sampler at Rebecca's event at Collage, and have just loved working on it. I finished the edging and perimeters of mine with single strand back stitch in gold floss, and thought the effect was subtle, but gorgeous. There are so many ways to personalize such a bold and graphic design, and choosing the twelve colors is a lot of fun too!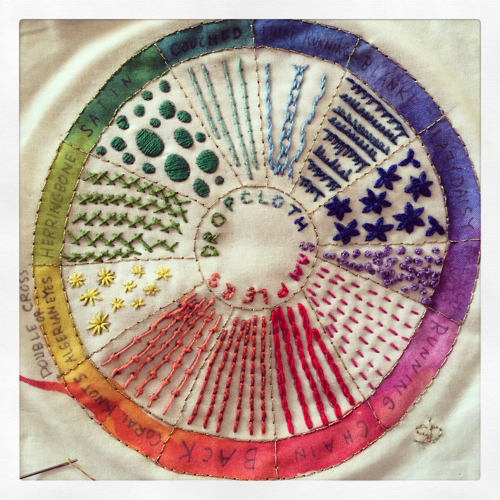 my Color Wheel sampler, just after I finished and signed it! Love this project.
Rebecca has graciously offered up my favorite of her samplers as a giveaway prize to one of my readers, a Color Wheel sampler ready for you to stitch! To enter, please leave a comment here on this post, mentioning something you love about embroidery, or how you learned, or anything else fun that comes to mind. I'd love to see your work if you'd like to share, or link to someone else's that inspires you. Please comment by midnight Pacific time Wednesday, August 12, one week from today. Good luck!!
Want to see more of Rebecca's work?
• Here's her book at Powell's – or of course you can find it in her shop or at your local bookstore.
• She teaches a wonderful Creativebug class in embroidery, too!
• Find her samplers in her Etsy shop here.
• And her Instagram is super fun to follow, don't miss the #dropclothsamplers tag to see lots more of her pieces brought to life! Now that she's living in Portland, she's sharing some beautiful photos of my favorite city, which has been so nice too. I'm excited to cross paths sometime soon!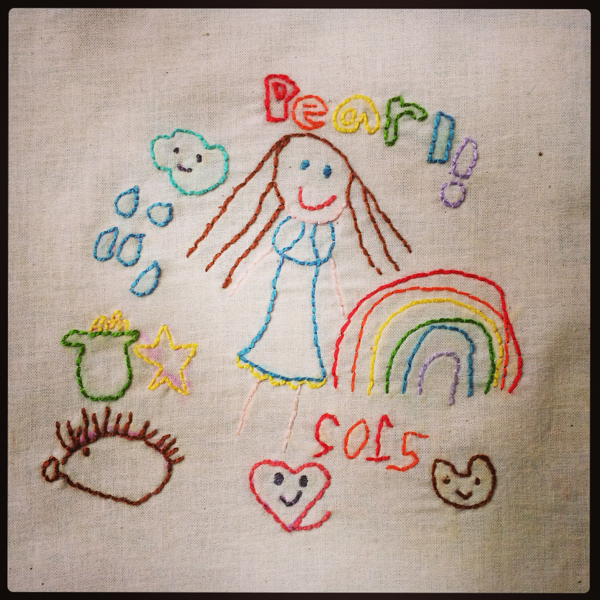 The embroidery piece Pearl & I started and collaborated on at Rebecca's Collage event – she drew, I stitched!