I love traveling almost as much as I love crafting, but I've learned the hard way that the two don't always mix! I've dropped seed beads all over the car floor, had a marker malfunction leak ink everywhere on a long flight, and lost my half-finished project somewhere along the way. But if you bring along the right craft, your trip will be so much more fun–here are some suggestions for travel-friendly projects!
I traveled all over Europe by train after college making jewelry, and met so many cool people who saw what I was working on and wanted to chat. I also sold quite a few pieces, or traded them for food, drinks, or books in English, another major bonus. When I drove cross-country to move to Oregon, I hand-sewed and altered a few t-shirts while it was my friend's turn to drive—it was a labor of love, but really fun, and the hours just flew by while I was working on them.
A few tips:
•Keep your supplies limited and organized. Don't bring all your beads with you, or every single strand of embroidery thread you own—choose what you want to work with, and leave the rest at home.
•A plastic organizer with little compartments and a tight lid is perfect for jewelry supplies or embroidery gear.
•If you're flying, use a nail clipper instead of scissors to snip yarn or thread. Cut out anything you can before you leave, too.
•A small tray or lid can be a great work surface in a car.
Here are the best crafts for taking across town or around the world —thanks to the craftistas for adding their suggestions!
Best portable crafts:
-Jewelrymaking and beading
-Knitting (especially on circular needles!)
-Crochet
-Macrame
-Origami
-Drawing or writing in a sketchbook or journal
-Hand-sewing (I made twenty felt flowers during a road trip to California last year!)
-Cross-stitching, embroidery, or needlepoint
Leave at home:
-Anything involving things that spill or stain—glue, paint, ink or water
-Anything toxic—glues, glazes, or chemicals
-Anything heavy or especially fragile
-Anything you would be devastated to lose
Happy trails!
– – – – – – – – – – – – – – – – – – – – – – – – – –
Reprinted from the "Craft My Ride" chapter of Super Crafty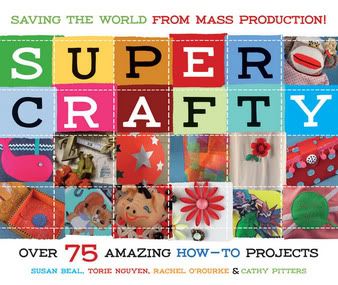 – – – – – – – – – – – – – – – – – – – – – – – – – –
Susan Beal is leaving for the airport in a few hours, and bringing along two knitting projects (on circulars, of course) and some nail clippers!