Ever wanted to show off your craft on TV? Me too! Here's how you can get yourself and your pirate wristcuffs or crocheted skirts on a new show!
My collective, PDX Super Crafty, got to film four episodes of Uncommon Threads, a new sewing and needlecrafts show on DIY Network. It was so much fun! We demo'd 12 projects altogether, some from our brand-new book, Super Crafty–everything from dog capes and legwarmers to a good-juju doll–and had a blast sewing, embroidering, and crocheting on air, even when the thread tangled (which it did once or twice, let me tell you!).
Cathy, Torie, and Rachel flew down from Portland to Burbank, where the show is taped, and I came up from LA to meet them at the Hilton. We went into the studio to meet everyone and do a few run-throughs the day before we started filming. The main thing we had to cover was how to show abbreviated versions of each step of a project–called "step-outs." The more complicated the project, the more steps you show–starting with the raw materials or cut-out pieces and moving towards the finished piece. This meant all of us had to make three or four or five versions of each project in progress, and arrange them so we showed a few minutes of each technique as a demo. This boils down to doing a lot more work in advance and a lot less once you're filming. The website has the full instructions for each project, so you don't have to sew each and every bit of the bag or legwarmers on air!
The first morning on set started early–a car came to the hotel for us just before 7 am. We packed up all of our step-outs and were chauffeured to the studio in style. First, we headed to our very own dressing room, and picked out lots of outfits for the stylist to choose from. No tattoos could show, and busy patterns were vetoed, but other than that we got to do it up!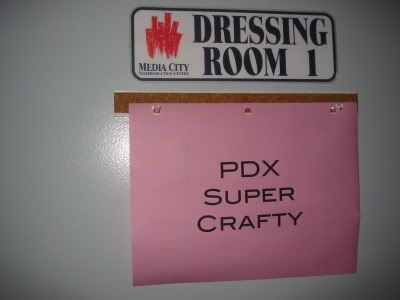 We filmed two shows a day, and each one was themed–one on making bags, one on housewarming gifts, one for pets, and one on making things with sweaters.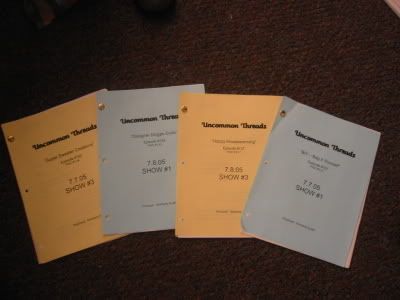 Everyone working on the show was so cool, and we loved the host, Allison Whitlock. She was so fun to work with, and really crafty herself–she made an ottoman for our sweater show. Here she is wearing one of my necklaces!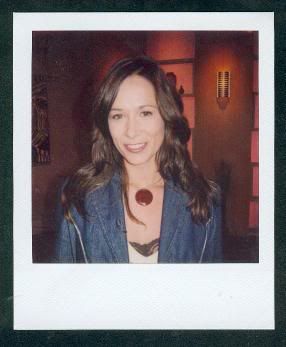 Each show started with three of us hanging out chatting with Allison about crafting, and then moved into the three or four projects we demo'd one by one. We each had a favorite thing we made.
Here's Torie with her darling sweater kitty: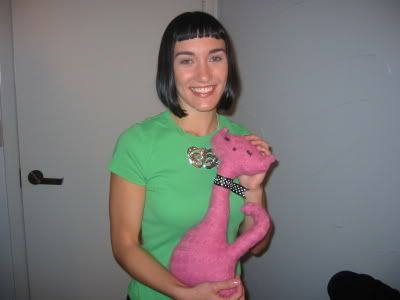 Cathy made some really cool vinyl bags: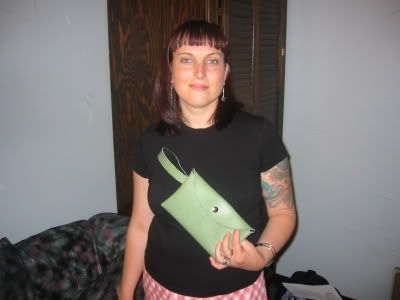 Rachel brought our little mascot Bingo along to model her adorable dog capes:

And I made a sewing tote to bring along to craft night!

The nice part was that we got some downtime while they filmed other episodes so we could just chill in the dressing room or get a snack. We overlapped with some other super-cool guests from Anezka Handmade, so it was fun to hang out with them, too!
Here we are at the studio door, along with Bingo, right after we finished the final episode–yay!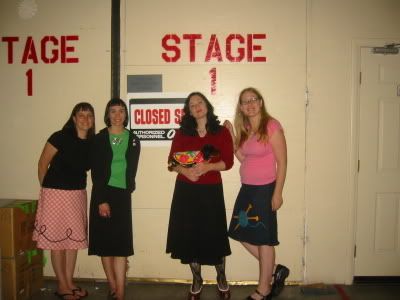 Look for our shows when the new season of Uncommon Threads starts airing on DIY in March 2006! There will also be new episodes of Stylicious, Craft Lab, and Knitty Gritty on–call your cable company now!
So here's our advice for filming a crafty TV show…
•Be flexible! You might have to re-do something at the last minute, so just roll with it. Bring extra materials or finished pieces along just in case.
•Days on the set are loooong–often 12 hours or so. My husband worked in the film industry for years, so I was pretty much expecting it, but be ready to get there at 7 am and stay til 7 pm, if need be. The good part is that as a guest, you'll get plenty of breaks, so don't forget a book or your knitting!
•There will be lots and lots of food, sodas, and water, but the coffee may not be very good.
•Stay relaxed in front of the camera. This is a lot easier for the less-complicated projects, obviously! It gets a bit stressful when you're demonstrating a difficult technique, but you can always start over, so just breathe and let your crafty autopilot take over.
•One last basic one: don't stare right into the camera! You don't want the deer-in-the-headlights look to sabotage an otherwise perfect take.
Here are a few crafty TV show opportunities coming up–hope to see you on one of them!
Here's a page of shows that Screen Door Entertainment (who does Uncommon Threads, Knitty Gritty, and other crafty shows) are casting. And check out the current DIY Network opportunities and see if there's one that's right up your alley! HGTV's show That's Clever (formerly Crafters Coast to Coast) is always looking for cool crafters in different cities–contact Weller Grossman for more info.
And chat about it in the getcrafty forums, too!
What's your favorite crafty show?
What's up with Crafters Coast to Coast?
————————————
Susan Beal is a West Coast jewelry designer and writer. Her first book, Super Crafty, just came out–woo-hoo! You can check out more of her crafty writing and other cool stuff at susanstars.com.