If we had to choose just one city in the world to be *the* crafty mecca, we would pick Portland, Oregon. Perhaps it's the DIY ethos of its punk rock music scene bleeding over into the crafty arena — or maybe it's just all those long rainy winters, but you can't throw a skein of organic wool in this town without hitting a knitter in a handmade dress on her way to craft night at the local lounge. Long-time getcrafty contributor and all-around West Coast superstar Susan Beal shows you the ins and outs of this crafty city. — Jean Railla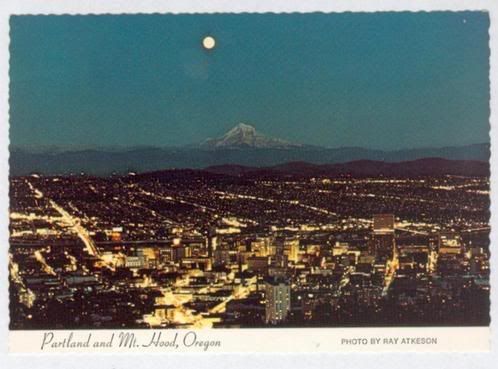 Crafty Community
Church of Craft has a very active and fun chapter in Portland led by Sister Diane, which meets at Rimsky-Korsakoffee House (707 SE 12th, 503-232-2640) one Sunday each month from 11:30-2:30. There's a hands-on class at each meeting, or bring your own projects to work on over coffee and dessert.
The ever-fabulous vintage and handmade emporium Frock (2940 NE Alberta, 503-595-0379) partnered with Jen Neitzel of Knot Ugly for a new project, DIY Lounge. The stylish space in the back of the shop offers all-encompassing craft and DIY classes—everything from knit and crochet to jewelrymaking and even voice lessons! Keep an eye out for the Tacky Craft Classes and Iron Chef-style Tack-Off contests.
Right down the street, Retrospect (1532 NE Alberta, 503-284-9799) has cool recycled art and craft for sale. Stop by and use their sewing machine and other craft supplies…
The super wonderful Knittn Kitten (7530 NE Glisan, 503-255-3022) has amazing vintage and craft supplies and fabric at thrift-store prices. Across the street, Touchstone Coffeehouse (7631 NE Glisan, 503-262-7613) has a craft night every Monday.
Memoir PDX (3731 N Mississippi, 503-528-1000) is an adorable new shop with a craft night every Tuesday at 7 pm. And ACME (1305 SE 8th, 503-230-9020) has a craft night every Wednesday after 6 with DJs plus food and a full bar.
Seaplane (827 NW 23rd, 503-234-2409) sells gorgeous and inventive clothes and accessories by Portland and West Coast designers. The last Wednesday of each month is also an in-house fashion show.
Crafty Publications
Learn everything from letterpress to bookbinding and transfer printing at the IPRC (917 SW Oak #218, 503-827-0249). They also have a kick-ass zine library and resource room. Downstairs at 921 SW Oak, Reading Frenzy (503-274-1449) carries an array of zines and independent publications with an excellent selection of craft books.
And don't forget to stop by the Orange Room of Powell's Books (1005 W Burnside, 503-228-0540) to check out their craft book section too.
Art and Craft
Check out PORT for gallery and outsider reviews and listings and a well-edited guide to the best of the hundreds (thousands?) of art events going on every month in the Rose City. One of the founding contributors, Jennifer Armbrust, also runs a remarkable gallery and shop called motel (19 NW 5th, 503-222-6699) with rotating monthly art shows and gorgeous handmade pieces in the shop.
Contemporary Crafts Museum is one of my favorite places in the world. The museum shows international craft artists' work in a stunning gallery space—everything from fiber and glass to wood and clay. Show openings, lectures, workshops, and classes for kids go on year-round.
Crafty Online
Two yahoo groups, PDX Stitch & Bitch and Stitch & Bitch Portland, list knitting and crochet-centric events and happenings around town.
The LiveJournal community Portland Craft is another resource to find out what's going on in town or post your own event.
Crafty Business
Want to sell your handmade stuff, or shop for cool indie designs? Check out Crafty Wonderland on the second Sunday of the month at Doug Fir Lounge. Forty-plus crafters sell their work each month and there's also a free make-your-own-craft table hosted by Sister Diane of Church of Craft and Jen Neitzel of DIY Lounge.
Twice a year, in summer and winter, is the one-of-a-kind Handmade Bazaar! The buy-sell-trade event has bands all day and amazing stuff for sale or swap.
Saturday Market has been going strong downtown since 1973, every weekend from March to December. Stop by to shop or apply to sell your own work.
For general advice on creative business, check out the website my craft collective put together, PDX Super Crafty. We compiled all the information we wish we'd had when we got started and added some fun DIY projects and interviews with some of our favorite crafters and artists.
Crafty Shopping
My favorite bead store is Dava Bead and Trade (1815 NE Broadway, 503-288-3991 and 6357 SW Capitol Hwy, 503-246-1934). They carry a great range of glass, semi-precious, wood, and metal beads plus plenty of tools, findings and books. Their classes are wonderful too.
For yarn and all things knitting and crochet, I love Yarn Garden (1413 SE Hawthorne, 503-239-7950). Check out their open knitting night every Wednesday. My other favorite is Mabel's Café and Knittery (3041 SE Division, 231-4107) which combines a gorgeous selection of yarn and supplies with a darling coffee-and-pastries hangout. Both shops have in-house classes for everything from felting to intarsia.
SCRAP (3901A N Williams, 503-294-0769) must be seen to be believed. Their typical inventory of super cheap recycled craft supplies includes all types of textile remnants such as fabric and yarn, corks, office supplies, various types of paper (decorative & office), framing supplies, metal remnants, wood scraps, magazines, industrial widgets and much, much more!
For a huge selection of fabrics and notions, you can't go wrong with the giant emporiums in town: Fabric Depot (700 SE 122nd, 503-252-9530) or Mill End (9701 SE McLoughlin, 503-786-1234). Watch for their sales.
There's also a JoAnn Fabrics on 82nd Avenue and a Michael's (1798 Jantzen Beach Center, 503-289-1481) for craft supplies.
Josephine's Dry Goods (521 SW 11th, 503-224-4202) carries exquisite cashmeres, silks, and other gorgeous fabrics.
—————————-
Susan Beal is a crafty writer, editor and jewelry designer who divides her time between Portland and Los Angeles. Check out more of her how-tos and cool handmade stuff at susanstars.com and PDX Super Crafty.com.